2021 CFA AGM Recap
The 2021 CFA AGM, hosted virtually this year from February 24-26, brought together farm leaders from across the country as well as industry stakeholders and government representatives to help set the priorities for Canadian Agriculture in the coming year.
This year's theme for the CFA AGM was "Unleashing Ag's Potential", focusing on how agriculture can play an impactful role in Canada's recovery from COVID-19 and beyond.
The AGM kicked off with an opening video sponsored by CN rail. If you would like to view the video, please send a request to comms.officer@canadian-farmers.ca
At the AGM, CFA heard from key political speakers. Watch the recordings below:
The third annual Brigid Rivoire Award for Champions of Agricultural Mental Health was presented at the AGM to Deborah Vanberkel for her work in developing the Farmer Wellness Program in Ontario.
Read a profile of her work here.
Panels
CFA held three panels during the AGM. Presentations that are available to share for each panel are below:
Innovative Policy Options for The Future of Business Risk Management Programming (view a recording here)
Generating Income from Greenhouse Gas Offset Credits (view a recording here)
Unleashing Agri-Food's Potential Path Forward: The Downstream Stakeholders' Perspective (view a recording here)
Presentations
CFA was also happy to host a private Q & A with our Corporate Partner, Farm Credit Canada, and their CEO Michael Hoffort on February 23rd. This session was an important opportunity for CFA members to ask questions and benefit from FCC's expertise in farm finances.
Spirits Canada Virtual Cocktail Reception
On February 23rd, Spirits Canada hosted the Virtual Cocktail Reception, where Spirits Canada President and CEO Jan Westcott, along with Lead Mixologist Mike Barrington, gave the AGM attendees a quick course in mixing three different premium cocktails sourced from Canadian ingredients.
CFA would like to thank Spirits Canada for hosting this wonderful event!
Thank you to our sponsors
CFA would like to sincerely that our Corporate Partner, Corporate Leaders and all the AGM sponsors for helping to make this event a reality. We could not do this without your support.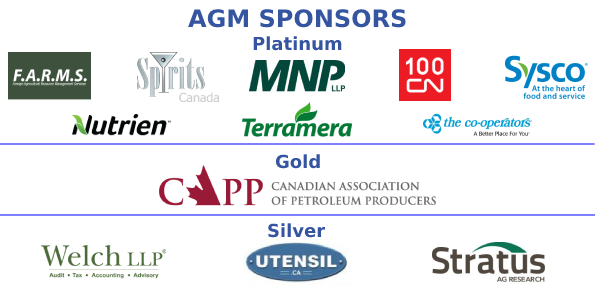 ---