Attend the premier gathering of Canadian farm leaders and industry representatives
Plans are well underway for CFA's 2018 Annual General Meeting, set for February 28th to March 1st, in Ottawa at the Marriott Hotel. More than 200 delegates and observers will convene to explore policy issues and industry priorities at sessions designed around the theme "Partnering for Success."
The AGM draws a wide range of participants, including farm and agricultural industry leaders, government and industry representatives, elected officials and national media.
Agenda highlights 
Our 2018 meeting program explores industry trends and examines the diverse ways that farmers work together. We'll look at how farm groups collaborate with a myriad of organizations, both directly and indirectly linked to agriculture. These connections show how farming and food production are woven into many aspects of Canadian life — from our growing economy, to scientific advancements, to sustainability, to community development. Speakers include:
Hon. Lawrence MacAulay, Minster of Agriculture and Agri-Food
Luc Berthold and John Barlow, Conservative Party agriculture critics
Ruth Ellen Brosseau, New Democratic Party agriculture critic
Murad Al-Katib, Chair of the National Agri-Food Economic Strategy Table
Mike Hoffort, President and CEO, Farm Credit Canada
Craig Klemmer, Senior Agricultural Economist, Farm Credit Canada
Dr. Lois Wright Morton, Farmer Leader, North American Climate Smart Agriculture Alliance      
and more to be announced soon.
At our AGM you can expect dynamic policy debates, interesting panel discussions, as well as valuable learning and networking opportunities. Check out our 2017 event photo gallery to see how our members work together at the conference.
---
Book your hotel accommodations
The conference will take place at the Marriott Hotel, located at 100 Kent St., Ottawa. CFA has made a block of rooms available until January 26th. Find out more and book your room online, or reserve by phone at 1-800-853-8463 (mention you are with the Canadian Federation of Agriculture conference).
Partner with us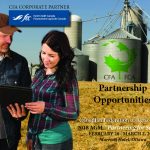 Our AGM and sponsorship program offer our partners the opportunity to expand their business network and be part of industry discussions at the grassroots level.
See details in our "Partnership Opportunities" brochure. To arrange sponsorship or ask questions, please contact Alexandra Wennberg at 613.539.9071 or alexandra@canadian-farmers.ca.
Registration Form