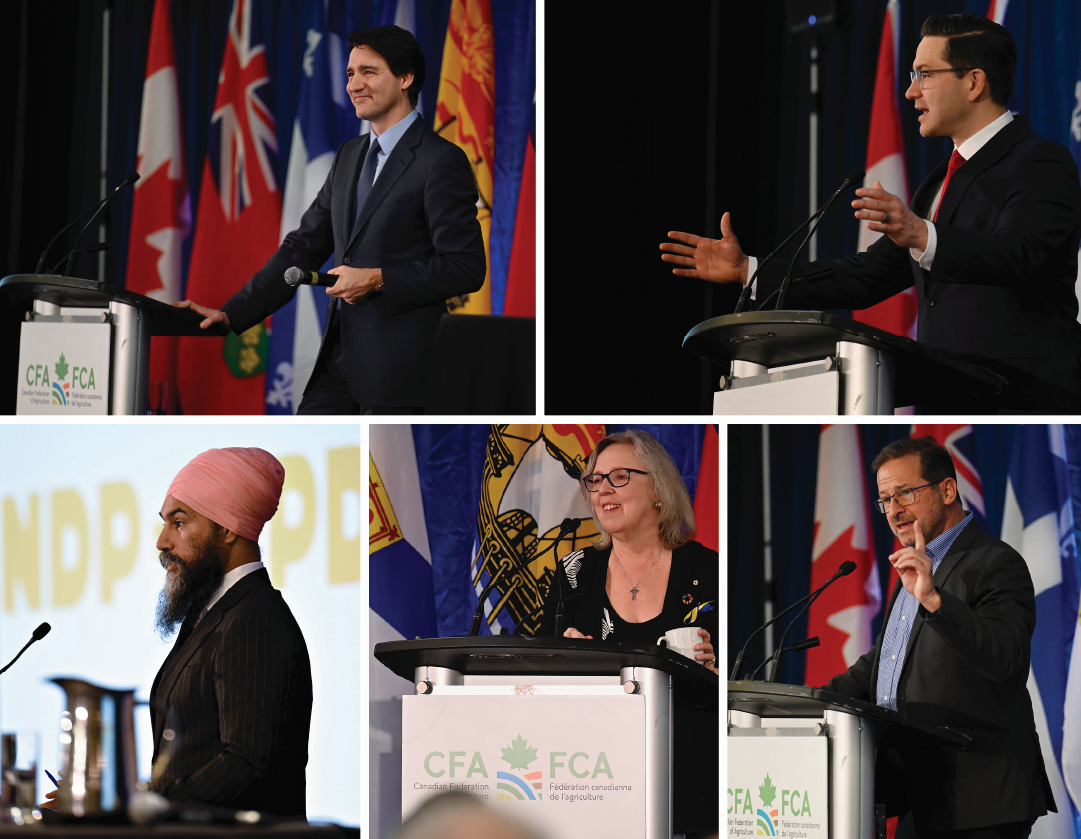 2023 CFA AGM Recap
The Canadian Federation of Agriculture's (CFA) 2023 Annual General Meeting (AGM), took place at the Delta Ottawa City Centre Hotel from March 6 – 7, 2023 bringing together farm leaders from across the country as well as industry stakeholders and government representatives to help set the priorities for Canadian Agriculture in the coming year.
This year's theme for the AGM was Building a Resilient Future for Canadian Agriculture,  looking at how we can build further resilience in agriculture and the food supply chain in the context of a changing climate and large-scale supply chain disruptions.
The AGM kicked off with former CFA President Mary Robinson's opening remarks and a year-in-review video sponsored by CN.
During the CFA AGM, the CFA Board passed 55 resolutions for the upcoming year. A summary of these resolutions can be found here.
---
New Executive Officers and Board of Directors – 2023
We are thrilled to have welcomed at the CFA AGM our newly appointed CFA Executive Officers.
Click here to learn more about our newly acclaimed President – Keith Currie, Todd Lewis, 1st Vice-President and Pierre Lampron, 2nd Vice-President.
The CFA Board has some new members, please click here for the full listing of CFA's Board of Directors.
---
Political Speakers
On Monday, March 6th, we were thrilled to have all Canadian political leaders speak at our AGM including the Prime Minister of Canada. To hear each of their keynote presentations and the Q&A with our delegation, see all the recorded links below:
---
Workshops
On Monday, March 6th in the morning, the CFA held concurrent workshops focusing on Policy and Professional Development. We have received very positive feedback on the outcome of these two workshops and the incredible lineup of subject matter experts/panelists.
While only the Policy Workshop was recorded, we have the Professional Workshop presentations available for your reference. You will also note the original workshop agendas and speaker bios for further reference.
The CFA would like to thank MNP for their outstanding exclusive sponsorship of the Professional Development Workshop focusing on Government Relations and EDI. The CFA Policy Workshop focused on the National Workforce Strategy, OFCAF and Sustainable Agriculture Strategy (SAS).
---
Panels
CFA held two panels during the AGM. Recordings for these segments can be found below:
Live with Real Agriculture Radio: Innovation & Resilience in Agriculture (view a recording here)
*Sponsored by RBC, moderated by Shaun Haney, Founder of RealAgriculture.
Examining the Current AG Landscape: Challenges & Opportunities (view a recording here)
*Sponsored by Fertilizer Canada, moderated by Karen Proud, President of Fertilizer Canada
---
Presentations
Presentations from the AGM that are available to be shared can be found below:
Justine Hendricks, Farm Credits Canada President and CEO
Dr. Briana Hagen, CEO of the Canadian Centre for Agricultural Wellbeing.
---
Brigid Rivoire Award
The fifth annual Brigid Rivoire Award for Champions of Agricultural Mental Health was presented at the AGM to The Guardian Network. The Guardian Network is a volunteer suicide prevention network which supports Ontario's farming community. Watch a recording of the award ceremony here.
During the AGM, CFA announced that this would be the final year of the Brigid Rivoire Award, and that the award would be shifted into an annual $2000 donation to the Canadian Centre for Agricultural Wellbeing.
---
A Tribute to CFA's Past President – Mary Robinson
Mary Robinson who served as CFA President from 2019 to 2023, concluded her tenure at the end of this year's CFA AGM. It is without question, that Mary Robinson was a remarkable leader who has left a positive and profound impact on our Association & Industry Sector. In order to pay tribute to her many achievements, the CFA created a Tribute video for Mary that was shown at the end of the day on March 6th, alongside a gift & flowers presented to her from our new Executive Officers.
We know that Mary will be doing great things for Canadian Agriculture & Agri-Food in her future and we are deeply thankful for her dedication & perseverance during her time leading the organization.
---
Spirit's Canada Welcome Reception and President's Reception
On March 5th, Spirits Canada hosted the Spirit's Canada Reception, where Spirits Canada President and CEO Jan Westcott, gave some remarks to the CFA AGM delegates and great appetizers and cocktails were enjoyed by all.
CFA would like to thank Spirits Canada for hosting this wonderful event!
On the evening of March 6th, the CFA held its annual President's Reception, which was exclusively sponsored by Railway Association of Canada.
It was a great opportunity for everyone to network and come together in person. We are very thankful for Minister Marie-Claude Bibeau to say a few words to the reception delegates and hear from RAC's President & CEO – Marc Brazeau. We understand that our poutine bar was also a big hit amongst our reception guests!
At the reception, we had over 180 in attendance with over 70 political officials including MP's, Senators, political staff and many more.
---
Thank you to our sponsors
CFA would like to sincerely that our Corporate Partner, Corporate Leaders and all the AGM sponsors for helping to make this event a reality. We could not do this without your support.