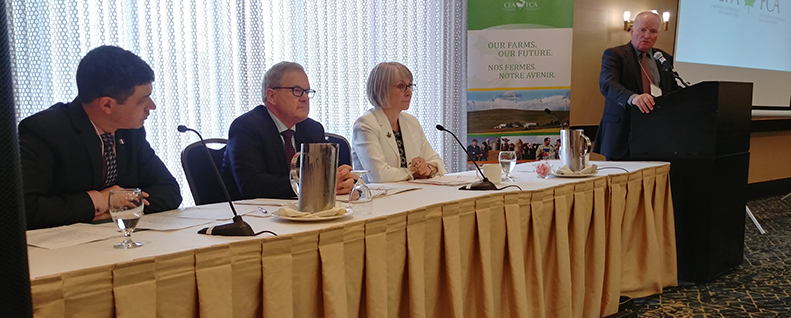 The Canadian Federation of Agriculture convened a day-long discussion in May 2018 focused on fostering trust and compliance in Canada's international farm worker programs. The event was co-chaired by CFA President, Ron Bonnett, and Parliamentary Secretary to the Minister of Employment, Workforce Development and Labour, Rodger Cuzner.
Discussions brought together a broad range of industry, departmental and elected officials to address fairness and efficiency within the Temporary Foreign Worker Program, and featured a panel with key elected officials:
Hon. Patty Hajdu, Minister of Employment, Workforce Development and Labour
Hon. Lawrence MacAulay, Minister of Agriculture & Agri-food
Serge Cormier, Parliamentary Secretary to the Minister of Immigration, Refugees and Citizenship
Following in-depth conversations, participants talked about an array of proposed solutions to address specific concerns.
Three recommendations were repeatedly identified through this discussion, suggesting strong support from industry:
Establish an ongoing service delivery working group, comprised of industry representatives and departmental officials from ESDC, IRCC, and AAFC that meets on a regular basis. Through regular meetings, this working group would provide a critical venue to promote transparency through proactive consultation, co-creation of communication materials, and triaging of critical employer concerns.
Promote compliance, trust in the program, and sharing of best practices through employer education. Through such education, program requirements would be better understood, reducing administrative burden for employers and government, while promoting the protection of worker and employer rights.
Implement a client-centric approach to service delivery that ensures accountability to clearly defined service standards, consistency in program implementation, and benchmarking to drive continuous improvement.
Read the summary report for an overview of outcomes, including lists of the specific interventions and initiatives that would help mitigate ongoing employer concerns and, ultimately, foster enhanced trust and compliance within the TFWP.
View speaker presentations: