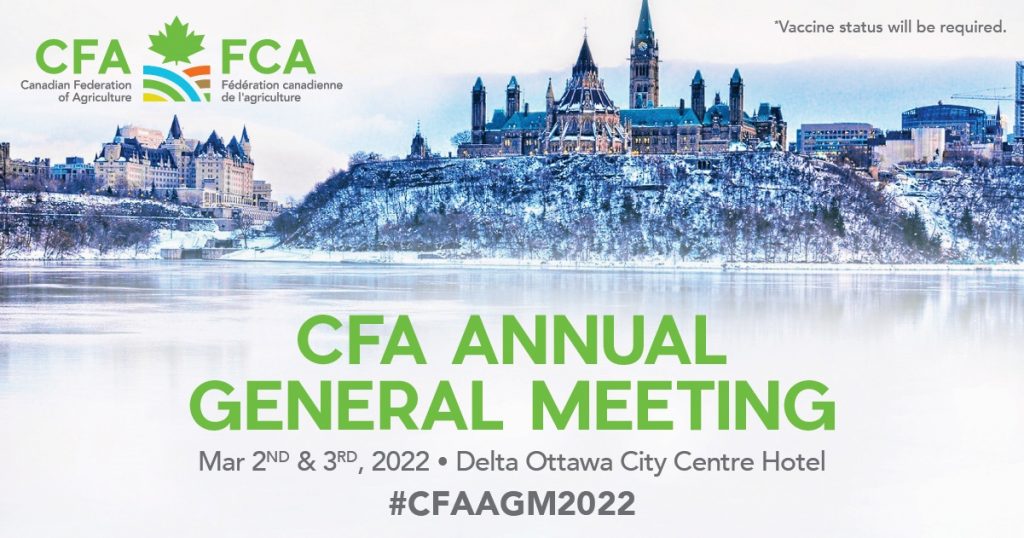 2022 CFA Annual General Meeting
CFA's AGM will be held in-person at the Delta Ottawa City Hotel in Ottawa, ON – from March 2-3, 2022.
This year's AGM theme is "Finding sustainable solutions in uncertain times", looking at how agriculture can proactively and sustainably approach the variety of challenges and uncertainties it faces.
The CFA AGM brings together farm leaders from across the country to decide on the priorities of the agriculture sector for the following year. The event will have a variety of interesting panels and speakers that will examine the pressing issues and upcoming opportunities for Canadian agriculture.
While an agenda is forthcoming, the schedule for the AGM will be as follows:
March 2nd – Full-day AGM; President's Reception held in the evening.
March 3rd – Half-day AGM focused on resolutions, followed by a half-day board of directors meeting
Further details on the AGM will be available in the coming weeks.
*CFA Health and Safety AGM protocols FAQ's/Guidelines is forthcoming.
*Early bird pricing for the AGM will be available until February 14th.
*Vaccine status will be required for registration to the AGM as well as admittance into the event itself.
---
Hotel Booking Information:
Delta Hotels Ottawa City Centre
101 Lyon Street North, Ottawa K1R 5T9
613-237-3600
Room Block: Canadian Federation of Agriculture
Traditional: $219.00/night
Deluxe: $249.00/night
Club Level: $279.00/night
Suites: $319.00/night
Cut-Off Date for the room block: Monday, February 14th, 2022
Book your hotel with CFA's group rate here.
---