Ottawa, February 8th, 2022 – The Canadian Federation of Agriculture (CFA) has calculated that by Tuesday, February 8th, 2022, a Canadian household of average income will have earned enough to pay for their entire year's grocery bill.
Each year, CFA examines the proportion of income that Canadians spend on food as a way to explore year-over-year expenditure changes and raise consumers' understanding of Canada's food system, from Farm-Gate-to-Plate.
Canadians spent 10.7% of their disposable income on food in 2021, which is slightly lower than the 11% of disposable income spent on food in 2020. Due to this, Food Freedom Day is now one day earlier, landing on February 8th, 2022.
Food Freedom Day falling on an earlier date than the previous year will likely come as a surprise to many, especially in the light of rising food prices and overall inflation. While Canada's food system continues to provide access to affordable food by global standards, the pandemic has affected Canadian households in drastically different ways depending on their vocation, location and a wide variety of other factors.
For some, disposable incomes have increased throughout the pandemic, particularly for those who had no disruptions to their livelihoods coupled with a lack of spending opportunities. Others have seen large drops in their disposable income due to shut-downs in their industries.
These different realities are apparent when looking at the different quintiles of income by Canadian household in Canada to show the percentage of disposable income that they spent on food over the year. The graph below presents this information.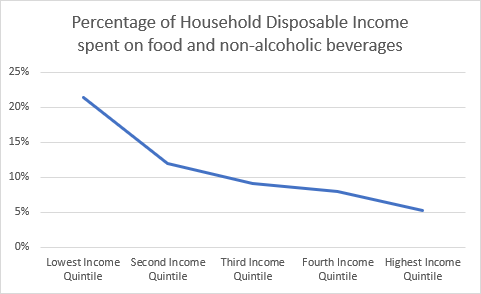 As can be seen in the graph above, there is a large difference between how much disposable income households in the lowest income quintile (21.3%) and the highest income quintile (5.1%) spent on food and beverages throughout the year. It should also be noted that food and beverage costs are fairly rigid. Those households in the highest income quintile only spent 30% more on food and beverages than the lowest income quintile, despite having almost 600% more disposable income.
This just reinforces the divergent realities experienced through the pandemic, with many harshly affected by the pandemic and struggling with rising food prices.
CFA would like to note that while Canadians have seen food prices increase steadily throughout 2021 on the grocery shelves, farmers receive a small percentage of the price that consumers pay for food, and rising retail prices are not normally reflective of what is paid at the farm-gate.
As a truly essential service farmers have demonstrated their resilience throughout these trying times and weathered the worst of the pandemic while continuing to provide safe, affordable and nutritious food for Canada and the world.
"This year we recognized the challenging realities faced by many households across Canada and while we want to continue celebrating Canada's capacity to provide affordable food to many Canadians, we wanted provide more context in order to show the effects that food prices are having on different segments of the population," said Mary Robinson, CFA President.
"While it's always great to see the overall figure improve, it's also important to see the different realities in households across Canada, and reflect on what rising food inflation means for food security across Canada."