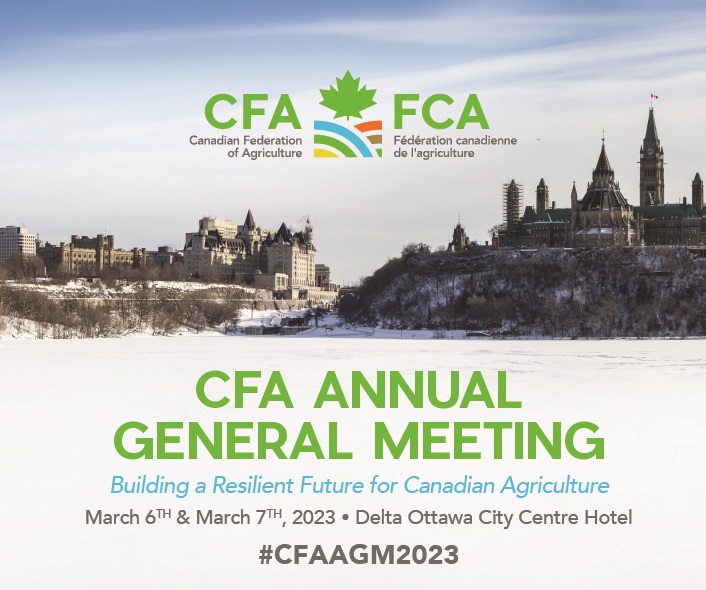 2023 CFA AGM
The Canadian Federation of Agriculture's (CFA) 2023 Annual General Meeting (AGM), taking place at the Delta Ottawa City Centre Hotel from March 6 – 7, 2023 brings together farm leaders from across the country as well as industry stakeholders and government representatives to help set the priorities for Canadian Agriculture in the coming year.
This year's theme for the AGM is Building a Resilient Future for Canadian Agriculture,  looking at how we can build further resilience in agriculture and the food supply chain in the context of a changing climate and large-scale supply chain disruptions.
Professional development workshops will be available for the staff of CFA member organizations and other attending organizations.  This workshop is for staff only. Producer delegates/directors are asked not to attend this session to encourage candid discussion of operational issues.
A Policy Workshop will be available for producer delegates and stakeholders, elected organizational representatives as well as political participants. Staff can also attend the Policy Symposium if they wish.
Learn more about the Professional Development and Policy Workshops here.
The AGM will also feature a Welcome Reception hosted by Spirits Canada, live RealAg Radio broadcast, panels, a fireside chat, President's reception, keynote speakers as well as a variety of political speakers.
Click here to see the speaker bios for the Live with RealAg Radio: Innovation and Resilience in Agriculture Panel, sponsored by RBC.
This year is also an election year for the CFA President, Vice-President and 2nd Vice-President positions.
*Early-bird pricing available until February 3rd.
Further information and registration will be available in the coming weeks.
Registration will close on February 27th, 2023.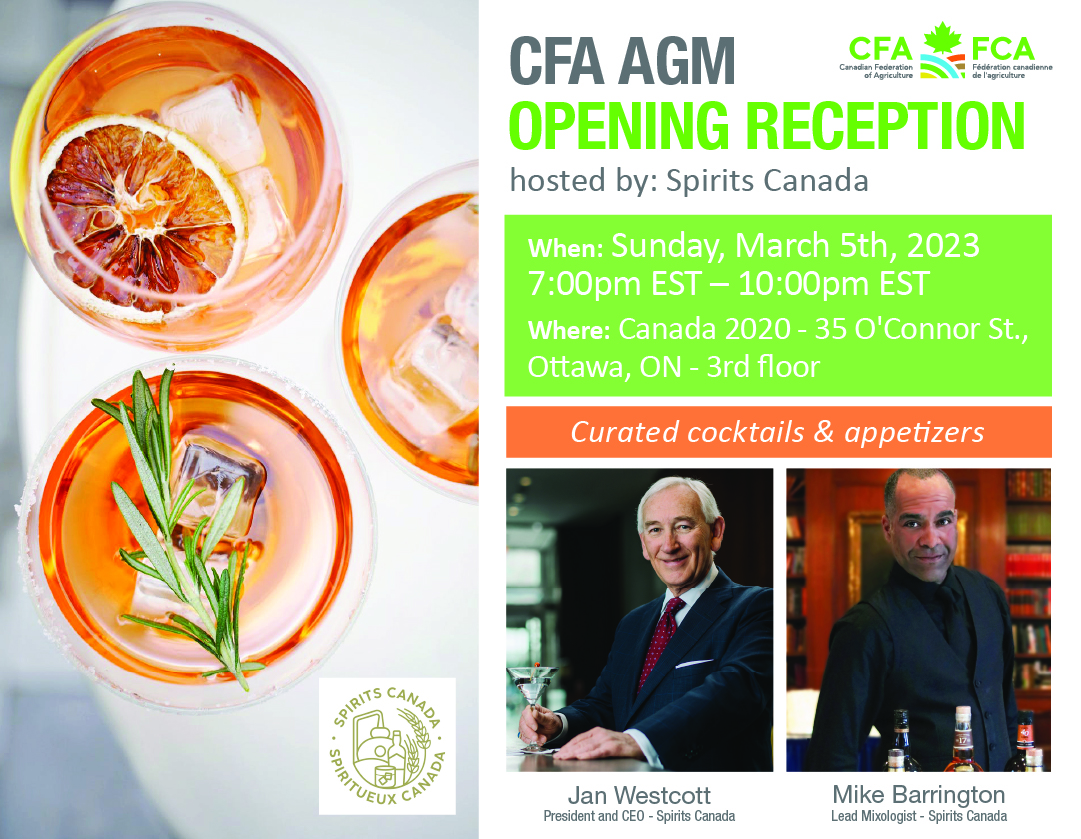 ---
Hotel Booking Information
Delta Ottawa City Centre (101 Lyon St. North)
Traditional (Single/Double)
$229.00
Deluxe (Single/Double)
$259.00
Club Level (Single/Double)
$289.99
Suites (Single/ Double)
$329.00
Additional Person:
$20.00
Cut-off date: February 13th, 2023