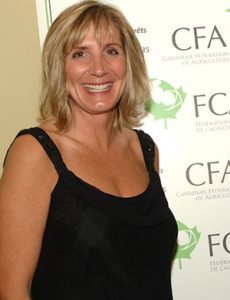 With heavy hearts, CFA is sharing news of the passing of Brigid Rivoire, our former Executive Director and one of Canadian agriculture's most dedicated advocates. Known to many for her kind heart and generous spirit, she is fondly remembered for her deep appreciation of Canadian farm families and the many people working to enrich our agricultural landscape. In Brigid, we found a true leader, an inspiring mentor, and a sincere friend.
Brigid passed away peacefully, at home and surrounded by family, on September 4th, 2017. Her beautiful smile and gracious manner leave a lasting legacy that will live on in the hearts of Canada's farm community.
Among Brigid's remarkable contributions to CFA are her efforts to have agriculture recognized as part of Canada's national fabric; her introduction of a face-to-face annual meeting between federal, provincial and territorial agriculture ministers; and her work to advance agriculture at the international level.
In Memory Donations
Always thinking of others, Brigid requested that In Memory Donations be made to the M.S. Society in support of her sister. Donations are accepted online at the MS Society of Canada web site. If you wish for CFA to forward a memorial card to Brigid's family, please include our office address: 21 Florence St, Ottawa, ON K2P 0W6.