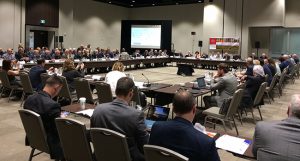 Farm leaders and agricultural ministers from across the country gathered to discuss agricultural issues at the annual CFA Industry-Government FPT Roundtable
Agriculture industry leaders met with federal, provincial and territorial agriculture ministers on July 19th during the CFA annual Industry-Government FPT Roundtable in St. John's, Newfoundland, where they explored priorities and strategies to grow the sector. Discussion topics included the next Agriculture Policy Framework (APF), efforts toward creating a National Food Policy, and NAFTA trade negotiations.
CFA presented the ministers with its A Food Policy for Canada discussion document that describes a range of recommendations to this end.
The roundtable was preceded by the CFA summer board meeting, at which members established priorities in a range of areas, including: labour, trade, climate change, transportation, as well as consumer trust.