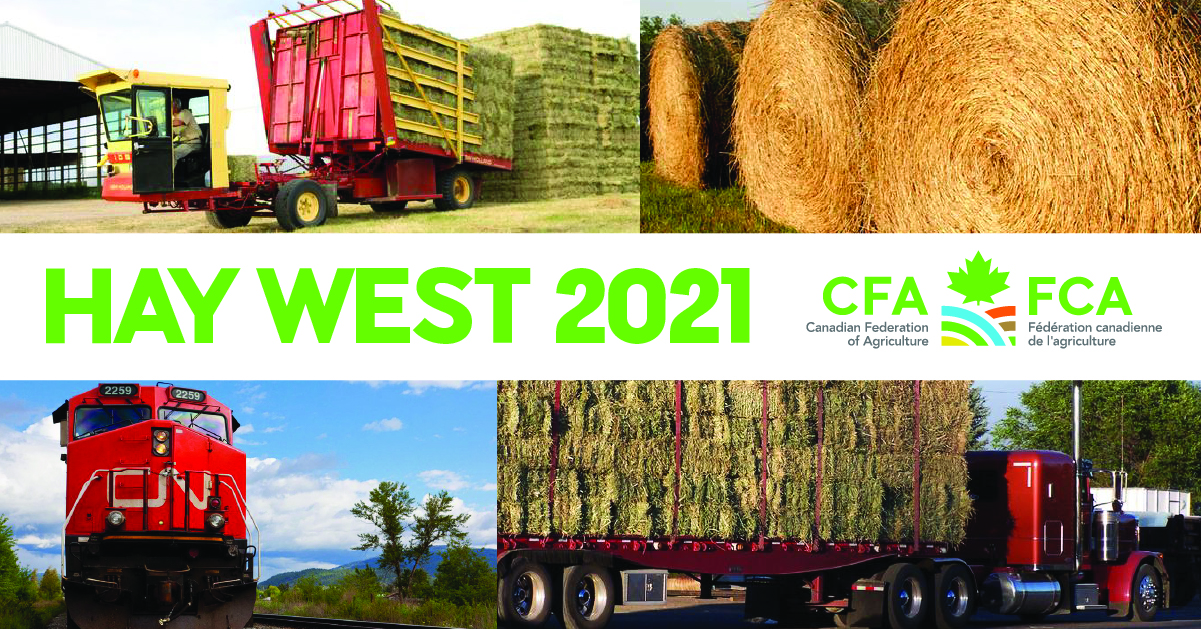 In 2021, the Prairie regions of Canada suffered from the worst drought in 70 years, making it impossible for most farmers to grow hay to feed their animals. This led to a huge deficit of hay and an animal welfare crisis in Canada, forcing many farmers to consider selling herds early or culling them due to a lack of feed.
CFA developed the Hay West 2021 initiative to ship hay from farmers in Eastern and Central Canada to drought-stricken farmers in the West. Farmers from across Canada came together to help their colleagues suffering from uncontrollable circumstances.
Hay West Winds Down
Following the shipment of 18.8 million pounds of hay, CFA is not seeking additional support for the transportation of hay, which will result in the winding down of the 2021 Hay West program.
CFA understands there continues to be a great demand for hay from Western Canada farms, but rising fuel costs and administrative challenges require CFA, as a not-for profit organization, to wrap up the current iteration of the program at this time.
As we wrap-up the program, CFA is working to clean up existing receivables and move final shipments of hay. Ensuring producers who have received hay have also received and paid their bill will in turn allow CFA to ensure producers who shipped hay are paid.
The sooner CFA can reconcile existing receivables the sooner we will be able to move the remaining shipments, ensuring farmers supplying hay receive final payments in a timely fashion.
We hope a path forward can be found to address the continued demand in Western Canada and leverage the availability of supply across Eastern Canada.
CFA remains grateful to farmers for their continued willingness to help one another in times in need, to Agriculture and Agri-Food Canada (AAFC) as well as to private donors for making this meaningful program possible and CFA is greatly appreciative of the role it was able to play in helping this goodwill extend across the country.
To learn more about those who contributed to Hay West 2021, click here.