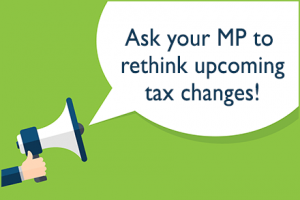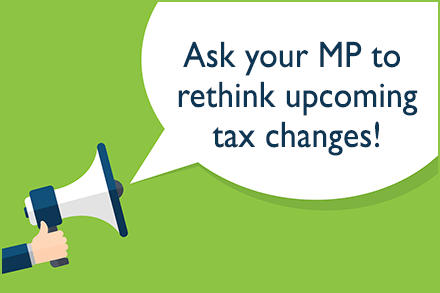 The federal government announced on July 18, 2017, a series of transformative tax proposals that may have a severe negative impact on family farm corporations, particularly for multi-generational farms. As the most significant tax changes in recent years, these proposals will spell uncertainty for all family farm corporations.  CFA is working with agricultural stakeholders and the broader business community to explore the plans laid out by Finance Canada in 'Tax Planning Using Private Corporations' — and it's clear that further study and technical analysis is required.
View CFA's news release on the upcoming tax changes.
---
Learn about about potential impacts to your farm
---
CFA calls for new approach to ensure proper consultation
The October 2nd deadline for the 75-day consultation period falls in the middle of harvest season. This doesn't allow enough time for farmers to participate in a fulsome review and discussion around such transformative changes. In fact, the proposals are so dense and highly technical that even tax specialists are still parsing through them, trying to define the scope of their ramifications. Some changes come into immediate effect, and some will lead to retroactive expenses, threatening major consequences for family farms in Canada.
CFA staff are working to ensure farmers' voices are heard on this matter, but we need your help! This requires a country-wide grassroots effort. Add your voice to our call for Finance Canada to take a step back and hold a more comprehensive consultation before finalizing any tax changes.
Contact your MP right now!
While MPs are back in their ridings, farmers and ranchers have a great opportunity to reach out and be heard. CFA urges you to request a meeting with your local MP or to attend a local event held by your MP to voice your opinions. Make your views known as soon as possible, in order to catch attention as parliamentarians prepare for the Fall session. Visit this link and enter your postal code to find your local MP's contact info.
Tell your MP that these tax proposals require further study. A 75-day consultation in the middle of summer is not enough!
Include the following points in your letter or conversation.
Family farms will be affected – The proposed changes will increase complexity and uncertainty to any farm business that has incorporated, which represents 25% of all farm businesses across Canada. Changes to the lifetime capital gains exemption, amongst others, create unprecedented complexity for those multigenerational farms looking to transfer to the next generation, while presenting considerable uncertainty without further guidance. The current proposals create disincentives to passing farms on to the next generation, threatening the future financial health of multigenerational farms across Canada.
Farmers use tax planning tools, not loopholes – Recognize that tax planning mechanisms are being used as was intended, and do not represent the 'loopholes' that the proposal currently portrays.
Small business owners are the middle class – Most small business owners are firmly in the middle class, and employ roughly 70% of those employed in the private sector. These independent business owners are unfairly labelled as taking advantage of 'loopholes' and cheating the tax system.
Small business owners face unique risks and costs – Small business owners take on business and financial risks that are not faced by wage-earning employees. These risks, amongst the range of costs they must also bear, are not considered in this discussion on fairness, leaving business owners at a considerable disadvantage.
Complexity, uncertainty and unintended consequences – The proposals are highly technical, with complex interactions throughout the Income Tax Act. Many tax practitioners who have had over a month to review these proposed changes are still parsing through them. Given the implementation dates of these proposals, this complexity and lack of understanding presents a significant risk to business owners that must make critical tax-related decisions in the coming months.
Further study is needed – A 75-day consultation in the middle of summer on complex legislative proposals, with some coming into immediate effect, does not allow for a fulsome review of such transformative change. CFA and other farm organizations are available to work with the federal government to look at whether there are changes needed to address these issues and to propose solutions, but the current process does not allow for meaningful consultation to truly take place. These proposals should be taken off the table and reconsidered until the government has undertaken the fulsome consultation such transformative change requires.
Further materials outlining the impacts of these changes will be made available in the coming days, so check back for more information.
Don't forget to sign the petition!
CFA also encourages members to sign this petition requesting an extension to consultations on these proposed changes.
For more information, contact Scott Ross, CFA's Director of Business Risk Management and Farm Policy, at 613-236-3633 ext. 2324.